Renting out a property can be easy - with the right partner!
As an owner who would like to rent out your own property, you will be faced with a certain amount of work: This cannot be prevented? With a strong partner at your side, it can: we take care of the entire rental process, including the search for a tenant, and advise you professionally and with experience. We are happy to help you in your role as (future) landlord - in Stuttgart, Germany and Spain.
Special support from which landlords benefit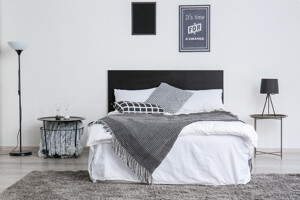 Letting a property is a big step, and we are happy to support you in this process. As estate agents, we work for owners in several phases of the upcoming letting process. We start with a consultation at eye level, during which we get to know your property and you and can already give you an initial outlook on the success of the tenancy and the achievable rent.
Our support for landlords includes the creation of an exposé with added value. In it, we introduce the property to suitable tenants and provide the necessary basic facts and documents. Tenants are given a visual insight, for example, with professional photographs, aerial drone shots and virtual 360-degree tours of the property's interior. We market this exposé to a wide market and target group.
Your goals and ours are identical - this is precisely the advantage
We always make a thorough pre-selection of potential tenants. It is important for you to have a solvent, trustworthy tenant in your property who values it - and that is exactly what we want to ensure for our clients. A profound property presentation is complemented by the necessary prospect screening, while at the same time we conduct site visits with potential tenants. This keeps your schedule free and optimises the tenant search in an efficient manner.
In this step, we request documents from prospective tenants, including for example:
Identity papers
Proof of earnings and income
Credit checks via Schufa information
Proof of no rental debt from the previous tenant
Of course, we also pay attention to the interpersonal aspects in order to lay the foundation for a harmonious tenancy, ideally over many years. If you are unsure what rent is justified for your property and the region, we help to make an informed decision.
We may already have the suitable tenant in our database - for Germany as well as Spain!
For rental owners, we are active in Stuttgart, Frankfurt am Main, other parts of Germany and even in Spain, for example in Mallorca (Palma) or Barcelona. If you are the owner of a property in Spain and would like to entrust the letting to a specialist, not least because of language barriers, we at the Immobilien Crew are also there for you. Please feel free to contact us!